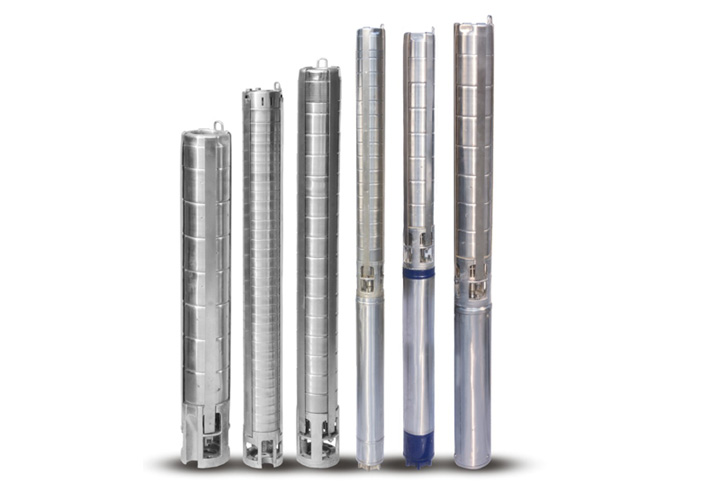 V4 Stainless Steel Borewell Submersible Pump sets (Water Filled) 100 mm
OSWAL submersible pumps & motors are well known for its quality, Reliability & excellence for all type of service purpose. OSWAL submersible pumps & motors are manufactured under supervision of highly qualified technical team with a stage wise rigid inspection procedure under TQM concepts. Application of Bore well submersible pumps are in Hospitals, Water circulation systems, Water supply systems of Government, Irrigation, Farms & Drip & sprinkler irrigation, Gardening, Nurseries, Domestic water supply, Multi-storey Building, Industries & Hotels.

OSWAL water filled pumps are available in model 100mm (V-4) normal bore with a consumption of various materials. With hardwearing bushes makes pumps highly efficient which is useful to corrosion resistance. Various models have a inbuilt check valve facilities which prevent back flow of liquid.
Manufactured by stainless steel fabricated technology, pumps are energy efficient and cost efficient, light weight easy for handling, life longevity, corrosion free. Pump shaft using Duplex steel for high wear resistance. Fully fabricated S.S.-304 pump set is with quality level as per international standard and the same quality is supply in domestic market.

OSWAL Submersible Pump sets of modular design is suitable for under-water operation for universal fit, all mounting dimensions of pumps and motors are in accordance with NEMA standards.

OSWAL water Filled pumps sets are highly efficient, Low power consumption, complete absence of suction trouble. Maintenance free operation due to water lubricating bearings, vibration free & noiseless operation and world class design gives higher discharge & high efficiency. Easily repairable & dismountable.
OSWAL BORE WELL SUBMERSIBLE PUMP confirm to IS : 8034.
Mounting dimension of 4" pumps sets are as per NEMA standard
Specification
OSP-2,3,5,8 & 14 Series
Power Range & Version
0.5 HP - 5.0 HP 1 Phase
0.5-7.5 HP in 3 Phase
Version
220-240V, 50 Hz,A.C. 1Phase
350-440V-3 phase
Speed
2880 rpm.
Discharge Range
23-250 in 1 Phase
23 -250 in 3 Phase
Head Range
42-250 mtr in 1 Phase
42-350 mtr in 3 Phase
Outlet size
25,32,40 & 50 mm
Degree of Protection
IP 68
Maximum Outer diameter
98 mm
Duty
S1 (Continuous)
Method of starting
Capacitor star and capacitor run
(CSCR) in water filled Capacitor start and run (CSR) in oil filled In 1 Phase / DOL in 3 Phase
Mounting
As per Nema
Material of Construction Pump
NRV Housing
Stainless Steel
Check Valve
Stainless Steel
Check Valve sheet
NBR
Impeller
Stainless Steel
Pump Shaft
Stainless Steel
Pump Shaft
SS - 431
Suction inter Connector
Stainless Steel
Coupling
SS 410
Material of Construction Motor
Upper, Lower Housing & Motor Base
Cast Iron (Regular) / Stainless Steel
Stator Body
Cast Iron
Shaft
Stainless Steel
Bearing
Leaded Bronze in water filled Anti frictional deep groove ball bearing in oil filled
Thrust Bearing Set
Carbon V/s SS in water filled
Application in :

• Water supply from bore well
• AC and solar energy compatible
• Municipal & Irrigation purpose
• Water supply in commercial establishments
• Small farms, gardening & nurseries.