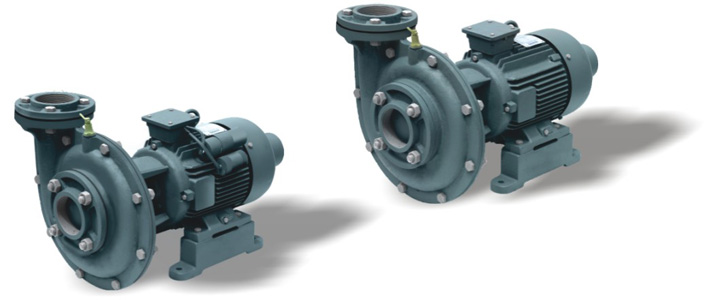 Centrifugal Monoblock Pumps 1440 RPM Single Phase
OSWAL Centrifugal Monoblock pumpset are the products of the expertise of highly qualified technical team with a stage wise rigid inspection method under TQM concept. The volute chamber of OSWAL Centrifugal Monoblock pumps and impellers are well designed to provide the best possible hydraulic efficiency and suction lift characteristic. CNC & SPM machinary and technology are employed in the manufacture of these pumps using best quality raw materials, well balanced impellers, seals and ball bearings to ensure long life.
OSWAL Centrifugal Monoblock Pumps confirm to IS : 9079.
These pumps are powered by a totally enclosed fan cooled AC induction motor, suitable for long hours duty. Motor stator is made of low watt loss steel laminations assembled under pressure and rigidly locked in the frame. Well balanced rotor ensures vibration and noise free operations. The varnish impregnated windings made of enameled copper wire offer excellent resistance. Shaft is made of quality steel, precision ground of ample size for transmitting the rated Horsepower. All single-phase versions up to 3.0 HP are incorporated with Thermal Over Load protector. These pumps require an adequate motor protection control panel. Application of OSWAL Centrifugal Monoblock pumpset are for Hospitals, Water circulation systems, Water supply systems of Government, Irrigation, Farms & Drip & sprinkler irrigation, Gardening, Nurseries, Domestic water supply, Multi-storey Building, Industries & Hotels.

Salient Features of OSWAL Centrifugal Monoblock Pumpset : High operating efficiency resulting in lower power consumption, good suction lift characteristics, Dynamically balanced rotating parts including rotor & impeller, Balanced and rigid construction, High working pressure & Designed for wide voltage fluctuations.
Specification :
Power Range
2,0 — 5,0 HP in 1 Phase
2.0 - 15 HP in 3 Phase
Speed
1440 rpm
Discharge range
305-1055 Ipm in 1 Phase
305-4260 Ipm in 3 Phase
Head range
6 - 14 mtr in 1 Phase
6 - 28 mtr in 3 Phase
Suction lift up to
8 mtr.
Suction x Delivery Size
50x50 to 100x100 mm
Version
220-240V-1 phase 350-440V-3 phase A.C., 50 Hz,
Degree of Protection
IP 54
Insulation
Class A /B
Duty
S1 (Continuous)
Thermal Protector
Optional
Method of Starting
DOL / Star-Delta
Material of Construction
Pump Casing
Cast Iron
Motor Body
Cast Iron
Impeller
Cast Iron
Shaft
EN 8
Sealing
Asbestors Gland Rope Packing
Bracket / front end shield
Cast Iron
Bealing
Anti frictional deep groove ball bearing
Application in :
• Irrigation
• Industrial water system
• Agriculture water supply
• Cooling system
• Rural water supply