Electrical Stamping Unit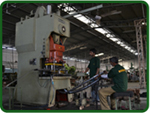 In house stamping unit having installed capacity of drawing 30 tons of stamping per day can produce all types ofCI & SG Casting electricalstamping which are specially designed and developed to suit our Oswal brand products and much more for market needs.
Our electrical stamping made from processed electrical steel of cold rolled non grain oriented (CRNGO) and semi processed CRN grade which then undergo in Hi-Perm process.
The production is drawn from series of pneumatic presses from 40 ton to 200 ton capacity and mechanical presses of capacity of 30 to 200 ton for small batch production of specially designed motor stampings. Installed with progressive tools such as S-loop feeder which results in timely and defined production. Stamping cutting Moulds are so perfectly maintained so as to have a burr less production. In addition we have Hi-Perm plant for decarbonising. Also Hydraulic Presses from 75 ton to 150 ton for stator pressing.

Stamping Products :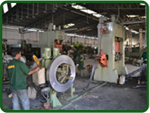 Electric Motor Stamping
Monoblock Pump Stamping
Submersible Motor Stamping
Domestic Pump Stamping

Tool Room
We are having well established tool room. Manufacturing and maintaining tools and dies in house is not only economical but also gives the advantage for day to day developments without any loss of time. Auto CAD and 3D Solid Works software CI & SG Casting are used for drawings and designing. Tool room is facilitated with most modern CNC & VMC machines shop.

Aluminium Die Casting Plant for Rotor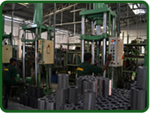 EC grade aluminium for is used in Vertical and Horizontal Hydraulic Pressure Die Casting Machines. Every rotor is passed through stringent checks & tests. Parameters of machines and product specifications are matched for utmost results. Capacity to die cast rotor up to 250 frame. The plant has the capacity to produce 2000 rotors per day.