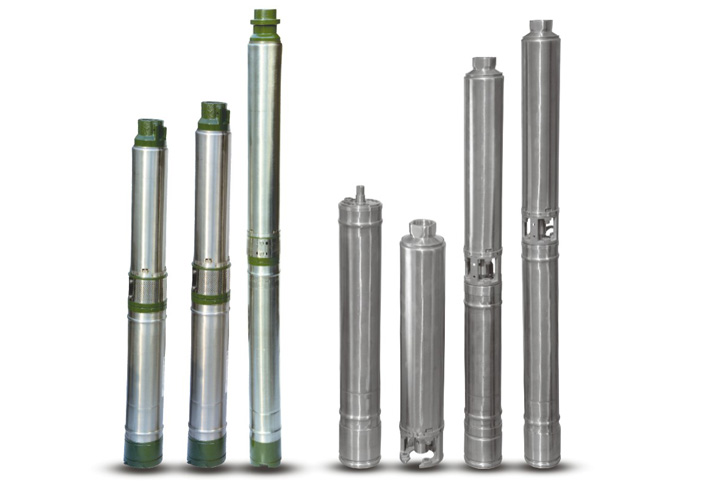 V3 Borewell Submersible Pumpset (Water Filled) 80mm
OSWAL submersible pumps & motors are well known for its quality, Reliability & excellence for all type of service purpose. OSWAL submersible pumps & motors are manufactured under supervision of highly qualified technical team with a stage wise rigid inspection procedure under TQM concepts. Application of Bore well submersible pumps are in Hospitals, Water circulation systems, Water supply systems of Government, Irrigation, Farms & Drip & sprinkler irrigation, Gardening, Nurseries, Domestic water supply, Multi-storey Building, Industries & Hotels etc.

Salient feature of Borewell submersible pumpsets are Highly efficient & low power consumption, Vibration free, noiseless & Complete absence of suction trouble. OSWAL water filled submersible motors are easily rewind able & repairable. Less Maintenance operation due to water lubricated bearing. Excellent design gives higher discharge & head due to efficient motor, Extreme care has taken for selection of rotor, winding wire, bearings & Stator.

SUBMERSIBLE MOTORS (WATER COOLED)
OSWAL motor Stator wound with Polly wrapped copper wires, which are easily rewind able, Water lubricated & water-cooled. World class designed excellent performance thrust plate are used of S.S. / Carbon that can withstand thrust loads with minimum wear & tear more over it also creates a wedge of water between shoe and the disc so life cycle of thrust plate is increased. Mounting dimension of 4" pumps sets are as per NEMA / Indian standard.
Specification
Power Range
0.5 HP - 1.5 HP
Version
220-240V, 50 Hz, A.C.
Method of Starting
Capacitor start and capacitor run (CSCR) in water filled Capacitor start and run (CSR) in oil filled
Speed
2880 rpm.
Discharge Range
25 - 80 lpm
Head Range
12 - 83 mtr.
Outlet size
25 & 32 mm
Degree of Protection
IP 68
Maximum Outer diameter
76 mm.
Duty
S1 (Continuous)
Mounting Standard
NEMA / Key way
Material of Construction Pumps
NRV Housing
Cast Iron (Regular) Stainless Steel (Platinum)
Impeller
Nory*
Diffuser
Norly*
Pump Jacket
Stainless Steel
Pump Shaft
SS 410
Suction inter Connector
Cast Iron (Regular) Stainless Steel (Platinum)
Coupling
SS 410
Material of Construction Motor
Upper - Lower Housing & Motor Base
Cast Iron (Regular) / Stainless Steel Jacket (Platinum)
Stator Body
Stainless Steel
Shaft
SS 410
Bearing
Leaded Bronze in water filled Anti frictional deep groove ball bearing in oil filled
Thrust Bearing Set
Carbon V/s SS in water filled
Application in :

• Bore well domestic water supply
• Rural and munucipal water supply
• Irrigation
• water supply in commercial estabilishments
• Small farms, gardening & nurseries.