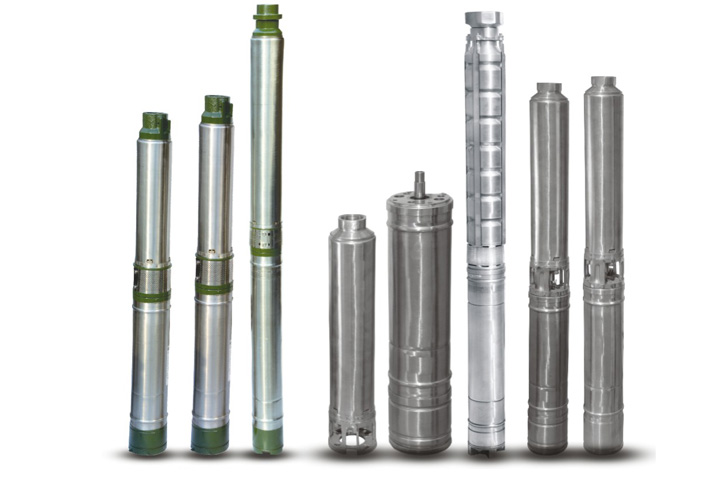 V4 Water Filled Borewell Submersible Pump Set
OSWAL submersible pumps & motors are well known for its quality, Reliability & excellence for all type of service purpose. OSWAL submersible pumps & motors are manufactured under supervision of highly qualified technical team with a stage wise rigid inspection procedure under TQM concepts. Application of Bore well submersible pumps are in Hospitals, Water circulation systems, Water supply systems of Government, Irrigation, Farms & Drip & sprinkler irrigation, Gardening, Nurseries, Domestic water supply, Multi-storey Building, Industries & Hotels etc. OSWAL water filled pumps are available in model 100mm (V-4) normal bore with a consumption of various materials with hardwearing bushes makes pumps highly efficient which is useful to corrosion resistance. Various models have a inbuilt check valve facilities which prevent back flow of liquid. OSWAL water filled pumps sets are highly efficient, Low power consumption, complete absence of suction trouble. Maintenance free operation due to water lubricating bearings, vibration free & noiseless operation and world class design gives higher discharge & high efficiency. Easily repairable & dismountable.

Salient features of Bore well submersible pumps sets are Highly efficient & low power construction, Vibration free, noiseless & Complete absence of suction trouble. OSWAL water filled submersible motors are easily rewind able & repair able. Less Maintenance operation due to water lubricated bearing. Excellent design gives higher discharge & head due to efficient motor, Extreme care has taken for selection of rotor, winding wire, bearings & Stator. SUBMERSIBLE MOTORS (WATER COOLED)
OSWAL Stator wound with synthetic copper wires, which are easily rewind able, Water lubricated & water-cooled. World class designed excellent performance thrust plate are used of S.S./Carbon that can withstand thrust loads with minimum wear & tear more over it also creates a wedge of water between shoe and the disc so life cycle of thrust plate is increased.
OSWAL WATER COOLED SUBMERSIBLE MOTOR confirm to IS: 9283.
OSWAL BORE WELL SUBMERSIBLE PUMP confirm to IS : 8034
Mounting dimension of 4" pumps sets are as per NEMA / Indian standard.
Specification :
Three Phase
Power Range
0.5 HP - 7.5 HP / 0.37 KW - 5.5 KW
Version
380 - 415 V, AC, 50 Hz,
Speed
2880 RPM
Flow Rate
10 lpm - 550 lpm / 0.63 m3H - 33 m3H
Total Head Range
10 mtrs. - 390 mtrs.
Outlet size in inches / mm
1" , 1¼", 1½", 2", 2.5" 25, 32, 40, 50 & 65 mm
Degree of Protection
IP 68
Direction of Rotation
CCW
Maximum Outer diameter
98 mm
Type of Duty
S1 (Continuous)
Maximum cooling flow
0.15 m/sec.
Maximum starts per hour
12 times.
Method of starting
DOL
Cable Connection
Permanently Connected and Sealed PVC insulated 3-core flat cable
Material of Construction - Pump
Part Name
Material
Check valve Housing
C.I.
Check Valve
Acetal / Noryl*
Impeller
Noryl*
Diffuser
Noryl*
Pump Shaft
SS 410 / 431
Suction inter Connector
C.I.
Coupling
SS 410
Pump Casing
SS 304 / J-4
Material of Construction - Motor
Part Name
Material
Upper, Lower Housing & Motor Base
CI
Stator Shell
SS 304 / J-4
Shaft
SS 410 / 431
Journal Bush
Leaded Bronze LBT 4 / Carbon
Thrust Bearing Set
SS 420 and Carbon
Pump Liquids :
Clean, thin, non-aggressive, non-explosive, clear, cold, fresh water without abrasives, solid particle or fibers shall mean the water having the following characteristics.
Temperature
35°C (max.)
Permissible amount of sand
25 gms /m3 (max.)
Chlorine ion density
500 ppm (max.)
Allowable solids
3000 ppm (max.)
Specific gravity
1.004 (max.)
Hardness (drinking water)
300 (max.)
Viscosity
1.75 x 106 m2 /sec (max.)
Turbidity
50 ppm silica scale (max.)
pH value
6.5 to 8.5.