Submersible Winding Wire Plant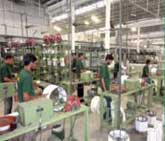 Submersible Winding Wire and Cables :
To keep our pumps and motors in top gear we have installed latest modern in house facility to manufacture and test, Oswal Power - Poly wrapped submersible winding wire, PVC insulated submersible winding wire and Super Enamel Wire. Our existing production is of capacity of Polly wrapped wire - 5000 Km per month and of Super Enamelled wire 40 ton per month and PVC wire 500 Kg per day.

Manufacturing Process :
ETP grade, drawn, annealed, round bright copper conductor with 99.99% purity as per ASTM standards are used conductor in our Poly wrapped winding wire, PVC wire and Super Enameled wire.
Copper Wire Drawing for Winding Wire & Cables : To feed our winding wire and PVC cable manufacturing facility, we have installed a set of semi automatic wire Drawing plant with one annealing furnace. We are using 99.999% pure certified copper from M/s. Sterllite / Hindustan copper for our winding wire and PVC cables.
Oswal PVC flat cables are manufactured by extrusion process with multi strand copper conductor.